Meet the Border Collie
High Doggy I.Q.
Tail-Wagging Workaholic
Playful Pupper
Looking for a dog that works hard and plays harder? Look no further – I'm the pawfect pup fur you! I'm extremely athletic and muscular, and I've got the brains to match. My super smarts make me really easy to train and I love exercising my mental muscles by learning new tricks and completing tasks. Just thinking about it makes my tail wag!
I have a lot of energy and need a ton of exercise every day. I can live happily in an apartment, but if you can't let me show off my great athleticism multiple times a day, then it might not be the right place for me. When I'm not playing or being a working dog, I love to cuddle with my humans, but sometimes the younger kiddos can get under my fur – sorry, it's my herding instincts! I also don't love being around other dogs, so I do better when I'm the primary pup in the house. At the end of the day, I just like staying busy and keeping my people happy. I'm up for any task, so put me to work and I'll give it my all!
Ready to learn more about me? Let's dig in.
Ready to learn more about me? Let's dig in.
About Me
pumpkin
Get the pet insurance all the Borders are wagging about.
Fetch My Free Quote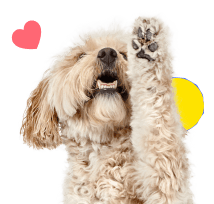 My Many Looks

Black & White
Black, White & Tan
Red & White
Red, White, & Tan

My Breed Characteristics

Furbulous Fact
Did you know that some people consider Border Collies to be the smartest dog breed? In fact, we're such great workers that we're frequently cast in movies and television shows – but it probably has something to do with our dashing good looks, too! The movie Babe stars a Border Collie named Fly who trains a pig to herd sheep. Pretty pawesome, huh?

As I Grow Up
As you can see, we Border Collies age pretty gracefully. Here are a few key milestones in my growth and development to be aware of as I grow up from a pupper to an adult and senior!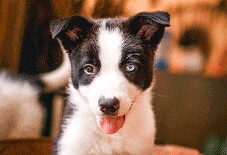 Puppy
4-8 Months
At this point, training is super duper important! Time to enroll me in puppy obedience classes and keep a close eye on my behavior.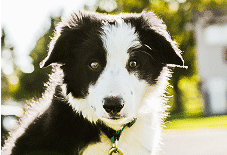 Adult
1-2 Years
I might be fully grown, but it's still important to reinforce good behavior. Make sure I get plenty of exercise, from fetch to frisbee!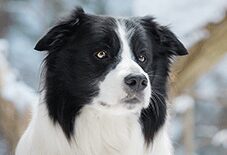 Senior
9-12 Years
I'm an old soul now! I can't move around as well as I once could, so a vet checkup every 6 months will help keep me healthy and happy.

History of My Breed
My breed's history dates all the way back to the Roman Empire when the Romans invaded Britain, bringing livestock and big herding dogs with them. Now fast forward a few centuries to when the Vikings invaded. You know, the people who wore those funny hats with horns? Anyways, the small Viking spitz dogs mated with the big-boned Roman sheep dogs. The result was a pup pawfectly built for sheep herding – fast, focused, and stealthy. The ancestors of the Border Collie were officially born!
Early on, we became the go-to doggo of Scottish, Welsh, and British farmers because of our herding instincts and working abilities. My ancestors could run 50 miles every day! Just thinking about it makes me sleepy. They knew what their owners wanted simply by looking at their hand signals and listening to their whistles. If any sheep got out of line, they would give him what's called "the eye" – a good, hard, intimidating stare.
Oh, you may be wondering about my name. Well, since we came from the border area between Scotland and England, it was only fitting to name us the Border Collie. Our name was first recorded in 1915, but our physical standard was noted a bit earlier in 1906.
After we were brought to the United States, we quickly made a name for ourselves. Border Collies became one of the top breeds in obedience, herding, and dog sport competitions, especially frisbee. Move over Golden Retrievers! To this day, my Border Collie friends hold all types of world records, from skateboarding the fastest to knowing the names of over 1,000 objects. That's a lot of names!
Finally, in 1995, we were recognized by the American Kennel Club (AKC). This resulted in us being divided into two lineages – one for show and one for work.

Pawesome Pups to Parent
In addition to purebred Border Collies like me, there are tons of pawfectly sweet mixed-breed Border Collies that are looking to find their furever homes. You can learn where to find your next pet below!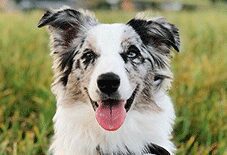 Care Tips
from Veterinarians
Use the right heartworm medication.
Dogs should take heartworm medication as suggested and should be checked for heartworms annually. Heartworm medication works to prevent heartworms from growing, but they don't actually stop the infection from occurring. That's why annual heartworm checks are so important. - Dr. Jessica Greenberg, Associate Veterinarian
Ask your vet about MDR1 gene mutation.
MDR1 is a gene mutation that prevents the MDR protein from protecting the dog's brain from harmful chemicals that can come from certain drugs. Border Collies are prone to this mutation, which is why it's important to test for it. They are prone to a few different health problems and the mutation can make them sensitive to certain medications, so it's essential to know whether or not your Collie has it. - Dr. Jessica Greenberg, Associate Veterinarian
Watch for B12 deficiencies in your Border.
Border Collies can congenitally suffer from selective malabsorption of vitamin B12. B12 is important for maintaining a healthy nervous system, proper brain function, and the formation and growth of blood cells. If your new pup is failing to thrive, have it evaluated by your vet. These pups respond well to lifelong B12 supplementation. - Dr. Marc Elie, Veterinarian
Be aware of your body language.
Border Collies are very intelligent and have great spatial awareness. In order to be a good Border Collie owner, you have to understand what your body is doing at all times. You should have good, authoritative body language that lets the dog know that you're self-assured and in charge. They learn quickly what they can and can't get away with, so you have to remind them who's boss. If they lean against you, it's not a sign of play. They're trying to herd you, so gently push back to reinforce your position of power.
Let your Border Collie get a ton of exercise.
This is a very high energy breed that needs a lot of exercise. They should be taken on several daily walks with around two to three hours of extensive exercise a day. If you ride a bike or a skateboard, let your dog run alongside you. If they stay sedentary, they'll be unhappy and can start to misbehave. Do what you can to give them plenty of exercise to tucker them out.
Give your Border Collie a job.
Border Collies respond well to tasks, so give your dog plenty of stuff to do. They thrive on mental stimulation, so constantly teach your Collie new tricks. This can be as simple as giving them a toy and instructing them to hold it while you eat dinner, or as extensive as putting them in agility training. Giving them a job reinforces their role in the house and will keep them on their best behavior.

Why Get Dog Insurance?
from Pumpkin®
While Border Collies are a generally healthy breed, unexpected ruh-rohs can happen to any dog at any age. If your pup gets hurt or sick, pet insurance can help you say 'yes' to the best care, even when it's costly. When it comes to shopping for this breed, you'll want to choose an insurance plan like Pumpkin plan that covers hereditary conditions Border Collies are prone to developing, and that can be costly to treat. While a reputable breeder will conduct genetic testing on your pup's parents to help minimize the chances of passing down hereditary conditions, they can't always be avoided. Let's look at some common ones, and how Pumpkin Dog Insurance plans could help cover the cost of care!
*Sample shows 90% reimbursement of covered vet bill assuming $250 annual deductible has been met.