Meet the German Shorthaired Pointer
Best Fur Friend
High Doggy I.Q.
Best Workout Buddy
Looking for an exercise buddy with tons of love to give? I'm the breed for you! We German Shorthaired Pointers are great family pets (especially in homes with kids and other dogs). I'll thrive in a home with a fenced yard (apartments aren't my thing) and an active family. I'm a high-energy hound so I need humans who can keep up – a basic walk or two won't cut it! Be prepared for at least an hour a day of vigorous exercise if you want to tire me out.
I don't do well alone and I tend to stick to my humans like glue. I've got too much energy to be on my own all day, not to mention, I'm very affectionate, so I need people to cuddle up with. I'm smart and eager-to-please so I'm easy to train. Start obedience training early, though! My furbulous looks are super low-maintenance and the time you save on grooming is much better spent going hiking, swimming, or playing dog sports! While I'm not the right pup for couch potatoes, I'm pawfect for a family that can match my big energy and love for life.
Ready to learn more about me? Let's dig in.
Ready to learn more about me? Let's dig in.
About Me
pumpkin
Get the pet insurance all the GSPs are wagging about.
Fetch My Free Quote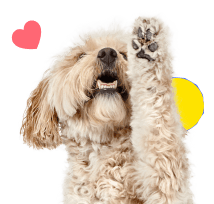 My Many Looks
Solid Liver

Liver Roan
Liver & White

Black & White

My Breed Characteristics

Furbulous Fact
​​We German Shorthaired Pointers are super active, high-energy dogs, and we love pretty much every outdoor activity, but especially swimming. We were bred to be versatile hunting dogs that work on both land and in the water, which is why we have a water-resistant coat and webbed feet! We love to splash around with our humans (as long as the water's not too cold) and we are also star athletes and love to show off our talents in dock diving competitions!

As I Grow Up
We German Shorthaired Pointers age pretty gracefully. Here are a few key milestones in my growth and development to be aware of as I grow up from a pupper, to an adult, to a senior!
Puppy
4-12 Months
I need early socialization & obedience training so I can learn how to channel my energy properly! (Just make sure I've had all my vaccines first, pawlease)!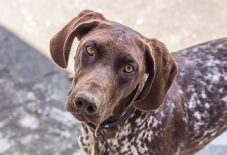 Adult
1.5-2 Years
I have a very high energy level and need at least an hour of daily physical exercise in order to stay happy & healthy.
Senior
8-9 Years
I'm prone to joint problems so switch to a senior-friendly dog food so I can maintain a healthy weight.

History of My Breed
​​​​As you may have guessed, we German Shorthaired Pointers come from Germany! Starting as early as the 1700s, German nobles wanted to create the perfect all-around gun dog to take hunting on their lands. But starting in the mid-1800s, it wasn't just the nobility who were able to hunt. The German middle class was growing in status and wealth, and middle-class people started to purchase their own land, which meant they could hunt, too. With so many more humans needing hunting buddies, my ancestors needed to be the best hunting dog on many different kinds of terrain for many different kinds of game. My early ancestors were German Bird Dogs (now extinct), and they were bred with Spanish Pointers, English Pointers, and Bloodhounds to create a hunting dog who could do it all: tracking, pointing, flushing, retrieving. There is no need for a specialized hunting breed when we are around – you name it, we GSPs can do it!
​​​​We were called the Deutsch Kurzhaar in our home country but to everyone else in Europe and beyond, we're the German Shorthaired Pointer. We first came to the United States in 1925 when a human doctor named Charles Thornton brought one of my ancestors from Austria to Montana. Since we were both great hunting dogs and loving companions, we became very popular very quickly amongst Americans. By 1930, the American Kennel Club recognized my breed, and our popularity only grew from there. Today, we are the AKCs 9th most popular dog breed! We GSPs are also decorated champions in both field trials and the show ring and our intelligence, elegance, and versatile skill sets makes us excel at every type of competitive dog sport.

Pawesome Pups to Parent
In addition to purebred German Shorthaired Pointers like me, there are tons of perfectly sweet mixed-breed GSPs that are looking for their furever homes. Find your next pet below!
Australian Shepherd Pointer
German Shorthaired PointerAustralian Shepherd
Find One Near You
German Shorthaired Lab
German Shorthaired PointerLabrador Retriever
Find One Near You
Purchase from a responsible breeder.
While well bred and cared for German Shorthaired Pointers can be very healthy, this breed is susceptible to certain heritable joint disorders, including hip and elbow dysplasia, which can cause pain and loss of mobility. In addition to heritable joint conditions, some German Shorthairs are also predisposed to pannus, a heritable eye condition that can cause blindness. Avoid heartbreak and veterinary expenses by purchasing puppies from responsible breeders who only breed dogs that are free of heritable disorders and provide health guarantee against heritable conditions.
Watch out for red, watery, or squinty eyes.
Some German Shorthaired puppies may be predisposed to entropion, a condition where the eyelid rolls in on itself, causing irritation to the eyeball. This condition is usually noticed in puppies but sometimes doesn't show up till later in life, and requires minor surgical correction that can be performed during a spay or neuter surgery.
Feed frequent, small meals to prevent bloat.
German Shorthaired Pointers have tall, deep chests, which can predispose them to a condition called bloat. Bloat causes the stomach to fill up with air and twist, and can be immediately life threatening. The signs of bloat include distended abdomen, vomiting, lethargy, loss of appetite, collapse, and death. You can prevent bloat by having your dog's stomach surgically tacked during a spay or neuter surgery. Alternatively, feed frequent small meals to decrease gulping which can cause bloat.
Keep them active!
German Shorthaired Pointers have a ton of energy, and they can be a challenge to train if they aren't getting the exercise and stimulation they need. This breed benefits from long runs, lots of play, and physical exertion. They're ideal for athletic owners who enjoy the outdoors, but if they don't get enough activity they start to get anxious and destructive
Be careful with cats.
As hunting dogs, German Shorthaired Pointers have a biological imperative to chase animals that are smaller than they are. This can be a nightmare for any cats in the household. In general, you can diminish this by teaching them to 'leave it' through strict and precise behavioral training.
Don't say it twice.
This breed is highly intelligent and can be trained to do many things, but you need to be extra careful not to teach them to ignore you. This happens when you say commands two, three, or even more times and then still reward them when they finally obey. They need to listen to you the first time, otherwise you are rewarding them for ignoring you. It takes discipline on the part of the owner to prevent this from happening.

Why Get Dog Insurance?
from Pumpkin®
While German Shorthaired Pointers are a generally healthy breed, unexpected ruh-rohs can happen to any dog at any age. If your pup gets hurt or sick, pet insurance can help you say 'yes' to the best care, even when it's costly. When it comes to shopping for this breed, you'll want to choose an insurance plan like a Pumpkin plan that covers hereditary conditions GSPs are prone to developing, and can be costly to treat. While a reputable breeder will conduct genetic testing on your pup's parents to help minimize the chances of passing down hereditary conditions, they can't always be avoided. Let's look at some common conditions, and how Pumpkin Dog Insurance plans can help cover the cost of care!
*Sample shows 90% reimbursement of covered vet bill assuming the annual deductible has already been met.