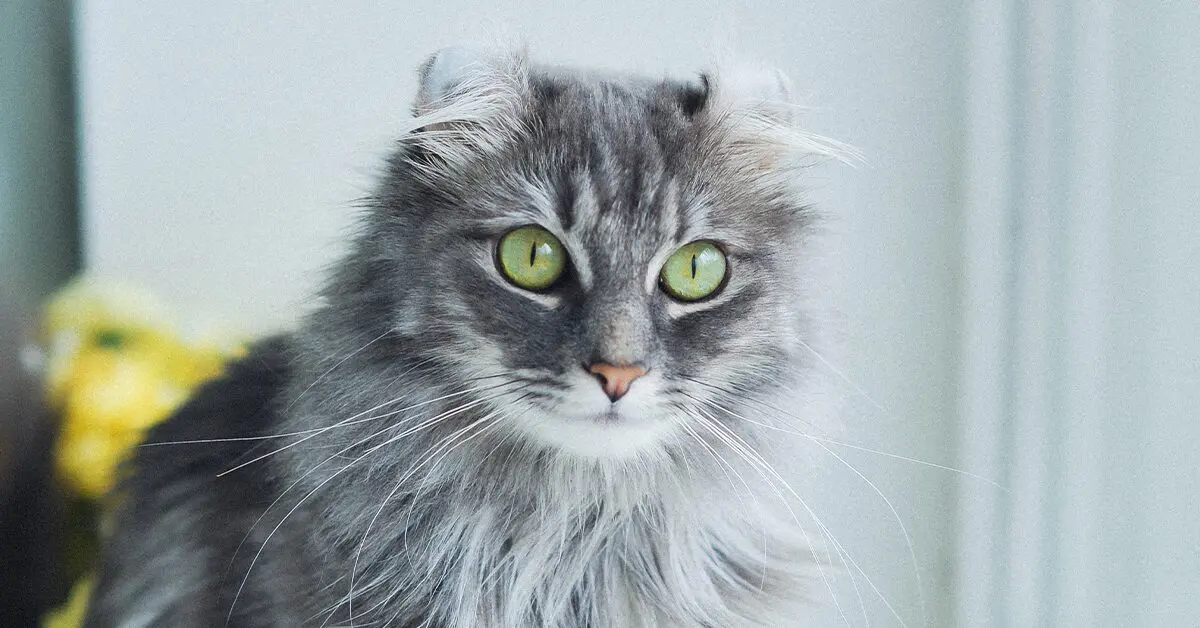 Meet the American Curl Cat
Friendly Feline
Social Sweetheart
Smart Cookie
Affectionately nicknamed "The Curl," we are joyous cats that know how to love. We adore our humans (including kiddos!), and we'll always be around when you want to hang out, whether we're playing fetch or cuddling on the couch. We'll miss you when you're not around, but we'll be sure to greet you at the door when you come home after a long day.
We're also called the "Peter Pans" of the cat world because we never lose our youthful spark. We're young furever! Even as we get older, you'll see us romping around the house with plenty of energy. We have to warn you, though: we know how to open doorknobs. If there's anything you don't want us getting into, make sure to put it way out of our reach. You can leave the treats where we can see them, though.
Ready to learn more about me? Let's dig in.
Ready to learn more about me? Let's dig in.
About Me

My Many Looks

Tan

Brown

Gray

Silver

My Breed Characteristics

Furbulous Fact
Wondering where we got the name, American Curl? Although we love to curl up in your lap, this isn't why. We actually get our furbulous name from the shape of our ears which - you guessed it - are uniquely curled. Instead of curling forward like most cat ears, they actually curl backward thanks to a genetic mutation. In other words, we really are one-of-a-kind kitties.

As I Grow Up
As you can see, we American Curl cats age pretty gracefully. Here are a few key milestones in my growth & development to be aware of as I grow up from a kitten to an adult and senior!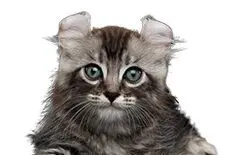 Kitten
< 2-3 years
We love spending time with our humans. Make sure you don't leave us alone in the house for too long so we grow up happy and sociable.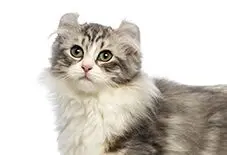 Adult
3-10 years
While we aren't high maintenance, we can shed quite a bit. Make sure to brush our fur twice a week to keep hairballs under control.
Senior
10-16 years
We're pretty active even as seniors, so don't forget to put off-limits toys and food out of our reach. We can wreak havoc at any age.

History of My Breed
Not only are we furever young in personality and energy, but we're actually one of the youngest breeds of cat out there. My unique ears first appeared in 1981 on a stray black kitten, who one day showed up at the door of Joe and Grace Ruga in Lakewood, California. The couple was immediately charmed by the striking kitten with the curled ears, and they took her in and named her Shulamith after a "black and comely" princess in the Old Testament.
Little did they know, Shulamith would soon have a litter of four kittens with an unknown father - two of them with curly ears. Filled with excitement, cat breeders began the process of selective breeding to preserve this unique and exciting characteristic. Soon, feline geneticist Roy Robinson realized that the ear-curling gene was dominant, which meant cats needed only one copy of the gene to be born with our curled ears. Thus, a new breed - the beautiful American Curl - was born.
We quickly rose to popularity, and we're now one of the most popular cat breeds in the USA. We don't blame you for wanting us; with our silky coat, playful personality, long lifespan, lack of health problems, and loving demeanor, we're pretty hard to resist. We were recognized by the International Cat Association in 1987 and by the Cat Fancier's Association (CFA) in 1993. So while we're a fairly young breed, we've purred and played our way right into humans' hearts - and we're here to stay furever.

Pawesome Cats to Parent
In addition to purebred American Curl cats like me, there are tons of purrfectly sweet mixed-breed American Curl cats that are looking to find their furever homes. You can learn where to find your next pet below!
Clean their ears often.
With their uniquely-shaped ears, American Curls tend to need frequent ear cleaning to help prevent ear infections. Make sure that you handle their ears with care when cleaning; they're very delicate and easily damaged.
Brush their hair often.
While longhair American Curl cats will need more brushing than shorthairs, it's a good idea to brush any American Curl cat frequently in order to prevent mats from developing (and keep your house free of hairballs!).
Feed them a high-quality diet.
Keep your American Curl happy and healthy by feeding them nutritious, high-quality diets. If not fed properly, they can easily suffer from obesity, leading to many health issues, including diabetes, heart disease, and joint disease.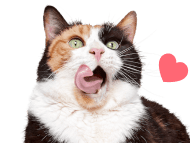 Why Get Cat Insurance?
from Pumpkin®
While American Curl cats are a generally healthy breed, cat-astrophes can happen to any cat at any age. If your kitty gets hurt or sick, pet insurance can help you say 'yes' to the best care, even when it's costly. When it comes to shopping for this breed, you'll want to choose an insurance plan like a Pumpkin plan that covers hereditary conditions American Curl cats are prone to developing, and that can be costly to treat. While a reputable breeder will conduct genetic testing on your kitty's parents to help minimize the chances of passing down hereditary conditions, they can't always be avoided. Let's look at some common ones, and how Pumpkin Cat Insurance plans could help cover the cost of care!
*Sample shows 90% reimbursement of covered vet bill assuming the annual deductible has already been met.